16:23
As social media companies promise to crack down on Russian disinformation about the war in Ukraine, studies show they continue to fall short, allowing disproven narratives to reach millions.
Facebook failed to label 80% of articles on its platform promoting a fast-spreading conspiracy theory that the US is funding the use of bioweapons in Ukraine, according to a study released Friday by the Center for Countering Digital Hate (CCDH).
The nonprofit disinformation research group studied a sample of posts from between 24 February and 14 March sharing external articles containing baseless claims about bioweapons. It found Facebook in 80% of cases failed to label posts as either "missing context", containing "partly false information" or "false information" outright.
"If our researchers can identify false information about Ukraine openly circulating on its platform, it is within Meta's capability to do the same," said the CCDH chief executive, Imran Ahmed. "But we found that in the vast majority of cases, conspiracy theories are given a free pass."
Read the story here:
Updated

16:00
The North Carolina congressman Madison Cawthorn will not face immediate disciplinary action over his claim to have been invited to orgies and to have seen Washington figures using cocaine.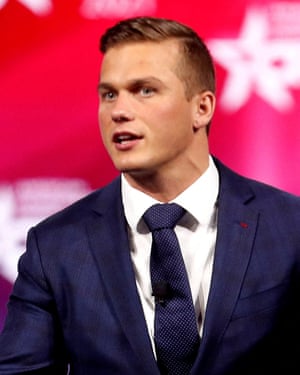 After meeting Cawthorn on Wednesday, the House minority leader, Kevin McCarthy, told reporters the comments were "unacceptable".
"There's a lot of different things that can happen," McCarthy added, regarding possible consequences.
"I just told him he's lost my trust, he's gonna have to earn it back, and I laid out everything I find is unbecoming. And you can't just say, 'You can't do this again.' I mean, he's got a lot of members very upset."
Full story:
15:40
The Guardian's voting rights expert Sam Levine has taken a look at the US supreme court's interest in Wisconsin's electoral maps, and how its intervention reflects the panel's hostility to equal voting rights nationally:
Even for experts who closely follow the US supreme court, there was something stunning about an emergency decision from the justices on Wednesday.
In an unexpected move, the court decided to throw out new districts for the state legislature in Wisconsin that had been picked by the state supreme court. But what was even more surprising was that the court's conservative majority seemed to go out of its way to attack the Voting Rights Act, one of the most important civil rights laws designed to prevent discrimination in US elections. "Extra headspinning," was how Michael Li, a redistricting expert at the Brennan Center for Justice, described it. "Bizarre," observed Richard Hasen, an election law expert at the University of California, Irvine. David Wasserman, a redistricting expert at the non-partisan Cook Political Report, tweeted that the supreme court had entered "uncharted territory".
The court's decision in the Wisconsin case was the latest in a series of rulings that have left little pretense of how aggressively it is trying to weaken section 2 of the Voting Rights Act (VRA), the most powerful provision of the law, which outlaws racially discriminatory voting practices. The court is not hiding its skepticism of the use of race in redistricting, even when it's used to protect minority voters, and is making it harder for litigants to justify considering race when district lines are redrawn.
Read more here:
Updated



Read More: Biden expected to announce record release from US strategic oil reserves – live