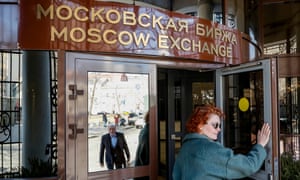 The Russian stock market fell back today, wiping out much of Thursday's rally when the exchange reopened for the first time in almost a month.
The Moex share index slid by 3.66% today, with every sector in the red, having gained 4.4% yesterday.
Limited stock trading resumed yesterday with several restrictions to prop up shares, including a ban on short-selling, and on foreign investors selling stocks. That helped to spark a rally yesterday, when oil and commodity stocks jumped.
Analysts have pointed out that these curbs meant Moscow's market wasn't operating properly, while the US dubbed it a "Potemkin market opening".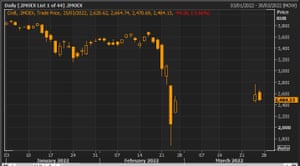 But despite these measures, airline Aeroflot shed another 18% today, on top of Thursday's 16% drop. Sanctions have barred its jets from EU and UK airspace.
Gas giant Gazprom fell 12%, after the US and EC agreed a deal to cut Europe's dependency on Russian gas.
Steel giant Severstal fell 9%, with reports that sanctions were holding up a loan payment to ite creditors, putting it on the verge of default.
Before Thursday, stocks had not traded on Moscow's exchange since February 25, the day after Putin sent thousands of troops into Ukraine.
The move prompted Western sanctions aimed at isolating Russia economically, which are driving the country into a deep recession.
The rouble-denominated Moex is now down 34% so far this year, having plunged when the invasion began in February before trading was suspended. In dollar terms, it's almost halved.
Dmitry Polevoy, an analyst at Locko-Invest in Moscow, told Bloomberg:



"Yesterday, the main theme was hot money searching for tactical buying.

Today, we see some selling plus more activity from people who stayed aside yesterday seem to be driving the move."

"Price-discovery will take time as it is hard to correctly assess new fair prices. The sanctions story is still open-ended."
With the slump in the rouble driving up prices, some investors may be looking to stocks as a hedge against inflation.




Read More: UK and US consumer confidence slides; Moscow stock market falls back – business live