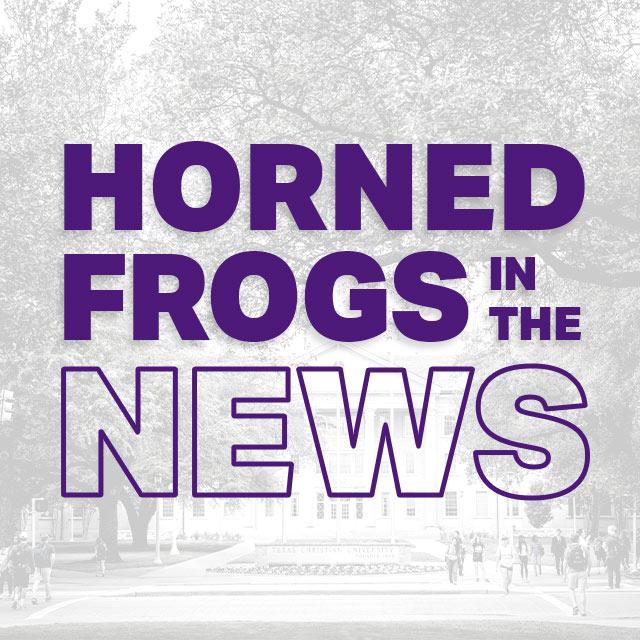 March 3, 2022
From the invasion of Ukraine and contentious school board meetings to a national championship
for TCU men's tennis and announcements about the TCU School of Medicine and the TCU
School of Music, Horned Frogs are being featured in the news.
INSTITUTIONAL
TCU announces site of new medical school in Fort Worth 
Feb. 28, 2022
The Dallas Morning News
Texas Christian University is opening a new campus in Fort Worth's medical district for its School of Medicine. The school will soon be located in the city's Near Southside neighborhood and will
house 240 medical students as well as hundreds of faculty and staff. It aims to drive
economic development and biomedical advances through partnerships with hospitals,
health care organizations and biotech industries, school officials said.
TCU Medical School is building south side medical campus
Feb. 28, 2022
Fort Worth Star-Telegram
In the shadow of Texas Health Harris Methodist hospital, a critical addition to Fort
Worth's medical district will soon take shape. On the vacant lot at the corner of
South Henderson and West Rosedale streets, TCU School of Medicine announced Monday it is building a campus in the Near Southside. Students, faculty
and local political leaders lauded the announcement as an exciting next step in the
growth of the TCU medical school.
Hope 1312 Collective bringing new therapeutic model to Glynn County 
Feb. 27, 2022  
The Brunswick News
In hopes of forming a more unified approach, Hope 1312 Collective is launching a new
initiative meant to create a "trauma-wise Glynn County." The centerpiece of the effort
is a therapeutic model called Trust-Based Relational Intervention, or TBRI, which Hope 1312 Collective intends to bring to all sectors of child welfare
in the community. TBRI has contributed to dramatic levels of healing for children
and families, said Daren Jones, associate director of training and consultation services with the Karyn Purvis Institute of Child Development at Texas Christian University.
Grand opening of Van Cliburn Concert Hall at TCU will honor iconic pianist's triumph
in Russia
Feb. 24, 2022
CultureMap Fort Worth
The long-awaited opening of the new Van Cliburn Concert Hall at TCU will serve as
a poignant reminder of the power of music around the world. The new state-of-the-art
concert venue will debut with a monthlong celebration in April, the university announced.
To inaugurate the hall, Russian pianist Olga Kern — a winner of the 2001 Van Cliburn
International Piano Competition — will perform with the TCU Symphony Orchestra. That
concert will take place April 13, the exact anniversary of Cliburn's triumph at the
International Tchaikovsky Piano Competition in Moscow in 1958.
Texas Christian University celebrates grand opening of Van Cliburn Concert Hall
Feb 24, 2022
Fort Worth Report
Texas Christian University's School of Music will mark the grand opening of the state-of-the-art Van Cliburn Concert Hall at TCU with a monthlong celebration in April. The concert hall is part of the new $53 million TCU Music Center that partially opened in fall 2020, providing more than 7,500 square feet of rehearsal
space and learning resources for TCU's band, orchestra and percussion programs.
FACULTY
Enhanced External Counterpulsation Eases 'Long COVID' 
Feb. 28, 2022
Arizona Daily Sun
For patients with "long COVID," enhanced external counterpulsation (EECP) treatment
is associated with improvement in symptoms, including fatigue and breathing difficulties,
according to a study presented at the American College of Cardiology virtual Cardiovascular
Summit, held Feb. 16 to 19. Dr. Mohanakrishnan Sathyamoorthy from TCU School of Medicine in Fort Worth and colleagues conducted a retrospective evaluation of electronic health
records of patients referred to EECP treatment. 
black-ish creator Kenya Barris, EP Courtney Lilly reflect on how the comedy's 'absolute'
Blackness has been key to its universal appeal
Feb. 28, 2022
TVLine
"You see all of these different touch points of where a generation's proximity to
a certain issue is," said Brandon Manning, a TCU professor whose area of expertise includes Black pop culture. "The Black Lives
Matter episode was one of those moments where you can see through the generations
how folks have struggled with issues of police brutality." Manning adds that the show
had similar successes when it took on national politics and the 2020 presidential
election. "It plays out in a number of different ways where people are emotionally,"
he said.
Texas billionaires team up to push governor even further right
Feb. 28, 2022
Bloomberg News
The positions were a surprising pivot for a governor known as a traditional Republican
who prioritized lower taxes and less regulation. The top donations to his campaign
come from the mainstream business world. "The Republican money establishment is certainly
backing him," said Joanne Green, a political science professor at Texas Christian University. Nonetheless, his challengers
are pushing him to the right, she said. 
Russia invasion heightens fears of Ukrainians in North Texas
Feb. 25, 2022
Fort Worth Star-Telegram
Ralph Carter, a political science professor who specializes in Russian history, said he wasn't
surprised that Russia invaded Ukraine after troops moved into the eastern part of
the country controlled by separatists. When Russian soldiers came through an area
of neighboring Belarus close to Kyiv, Carter said he grew more concerned. "I thought
they're not going for the little nibble, they're going for the big bite," Carter said.
Ask The Expert: How will invasion of Ukraine impact our wallets? Feb. 25, 2022
KRLD
Although the conflict is halfway around the world, Russia's invasion of Ukraine will
impact the U.S. in many ways. First off, we're already seeing the jump in gas prices.
Secondly, Ukraine (the "breadbasket of Europe") is a big exporter of other commodities,
like corn and wheat. Mike Slattery, chair of the Department of Environmental Sciences at TCU opined about the impact
of the Russian invasion.
Republicans making progress with Hispanic voters
Feb. 25, 2022
KERA-TV
Republicans were going door-to-door, connecting to conservative Hispanic Catholics
and evangelicals, generations who may have well grown up hunting birds with friends
and family along the largely rural border. JoAnn Green, political science professor, said, "Issues like abortion, definitely second Amendment issues,
economic issues, oil and gas industry — many of them, when asked by academics, identify
as white, so very much part of the Texas culture."
Fiery Debate Among 3 Republicans Who Want To Unseat Texas Attorney General Ken Paxton 
Feb. 24, 2022
KTVT-TV
The three Republicans challenging Texas Attorney General Ken Paxton in the GOP primary
took the stage for a debate. Paxton, who is leading in all the polls, declined to
attend. TCU political science professor Jim Riddlesperger says he believes Paxton may not have attended because he is relying upon former President
Trump's support and being the incumbent. "And I don't think that he thinks that his
cause would be helped by participating in a debate that would serve to raise the profile
of the people he's running against," said Riddlesperger.
'Our kids are watching': How school board meetings became the frontline for political
battles in Texas and beyond
Feb. 23, 2022
WFAA-TV
School board meetings have become increasingly hostile in recent years thanks to public
debates over everything from COVID-19 to culture. How did we get here? Erin Atwood, assistant professor of education, researches and teaches about education leadership
working with future educators. "It's not just happening in a few isolated pockets
— this is happening across the country," she says. "It's been attacks, verbal attacks,
threats of physical violence towards school board members rather than talking about
the issues that are of concern to parents, community members, educators and so forth."
Candid Conversations: Commemorating Black History Month
Feb. 23, 2022
Fort Worth Report
The panel discussion "Where We Are Today vs. Where We Were" was postponed to March
9 due to inclement weather. Panelist Whitnee Boyd works for the Office of the Chancellor at TCU and serves as an adjunct faculty in
the honors college. Her work focuses on building and managing internal and external
partnerships, researching first-generation college students and identity development,
…


Read More: Horned Frogs in the News, Feb. 22-28