Their commitment to staying the course literally keeps food on the table not just for their own families, but for all of us.
Our nation relies on the agriculture sector to contribute 3 per cent (about $50 billion) to GDP, or around 12 per cent (about $150 billion) if value-adding processes are included.
This contribution comes from the roughly 89,000 farming businesses operating in Australia – 99 per cent of which are locally owned. Remarkably, each of these farmers produces enough food to feed 600 people, producing almost 93 per cent of the nation's daily domestic food supply.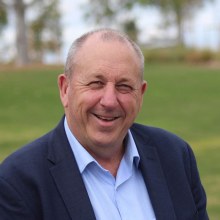 To achieve such remarkable output, these businesses are continually adapting to keep a step ahead of a changing climate, as they have done for generations and looking at ways to future-proof their operations.
Westpac has also been working to prepare not just ourselves, but our customers for the impact of climate change over an extended period, which means we have made progress in helping many understand the risks of climate change over the long-term.
We were the first Australian bank to release a climate change position statement back in 2008 and to commit to the goals of the Paris Agreement in 2015.
Growing numbers of primary producers are embracing new technology, practices and processes, including turning to data and science principles. They're playing the long game, making considered and more sustainable decisions for all of us.
Westpac's Agricultural Climate Risk Project has been helping our agricultural sector make informed decisions on their future as they look for ways to build climate-resilient businesses.
We partnered with consulting firm Energetics to explore how certain agricultural commodities across geographic regions might behave in a range of future climate scenarios – informed by climate projection data provided by CSIRO.
The Climate Risk Project, which commenced last year, is supporting customers by helping them understand possible climate-driven productivity changes for beef, sheep, cropping and dairy farming across Australia.
Our conversations with agricultural business owners confirms the climate variability experienced over the past 20 years has spurred the development and uptake of new technology and practices, bolstering the sustainability in the broader agribusiness sector.
For example, we've helped a dairy customer in south-west Victoria install an on-farm solar energy system to help meet their milk cooling and water heating needs with help from the Victoria Government's Agriculture Energy Investment Plan.
The 46kW solar power unit has helped reduce energy costs by around 20 per cent a year, improving load shifting practices to use more energy during the day and less during peak times of peak demand.
We're also working to understand the role Westpac could play in supporting the agricultural industry's efforts to adapt to the climate outlook and prosper in the net zero economy of the future.
We're constantly analysing the road ahead to build on our understanding of the short, medium and long-term climate change risks and opportunities in our major agribusiness portfolios so we can continue to support customers to respond.
We're the first to admit that the road ahead won't be easy. Our research reveals that under the most extreme climate scenario and climate model, projections confirm a challenging climate outlook by 2050.
Naturally, modelling shows pockets of some sectors and regions where business may face a greater challenge to adapt, for whom being a progressive, top quartile operator will be even more critical to their future sustainability.
Westpac has been helping farmers to meet the challenge of both transition and physical risks associated with climate change, and to maximise opportunities to reduce greenhouse gas emissions arising from the adoption of new technologies and farming techniques.
And throughout the journey, I've realised that there are some sectors in Australia that need to catch up on what farmers have understood for generations: that implementing sustainable practices gives agricultural business a competitive edge.
At Westpac, we stand with our customers, evolve, and innovate with them – as we have with the generations who have come before them.
Stephen Hannan has been with Westpac since the late-1980s, becoming national manager for Agribusiness in 2014. He's deeply passionate and proud to serve the people and communities that represent rural, regional and remote Australia.


Read More: Backing a progressive rural Australia