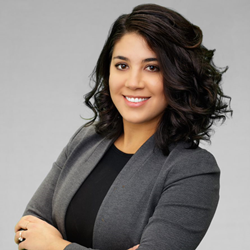 CHICAGO (PRWEB)
February 17, 2022
Gilbane Building Company is pleased to announce that Ezgi Kosereisoglu Talarico has transitioned to its business development team in the Chicago office. As a business development manager, Ezgi will drive strategic growth in the interiors, higher education, cultural, and entertainment markets.
"We are thrilled to welcome Ezgi to the business development team. Our sustained growth in Chicago has supported tremendous career opportunities for our team members, and I look forward to seeing Ezgi's success in her new role," said Jim Arends, Gilbane Building Company Vice President.
Ezgi spent the last year expanding Gilbane's interiors portfolio in Chicago, focusing on workplace, hospitality, and retail. In 2021, Ezgi relocated to Chicago from Gilbane's Boston office after successfully growing the interiors and workplace portfolio. Ezgi's solid operational foundation, strong industry network, and client-centric approach will ensure her success in this next phase of her career.
"I'm excited for this unique opportunity to continue building on Gilbane's strong tradition of excellence in Chicago and expanding our portfolio in these key market sectors," said Ezgi Kosereisoglu Talarico. "I'm looking forward to partnering with our clients, industry and trade partners, and the community to envision transformative projects that shape the future of Chicago for years to come."
Ezgi leads Gilbane's Midwest Rising Contractor Program focused on developing opportunities for diverse-owned businesses in Chicago and locations in the Midwest. She is an active member of CoreNet Chicago, Lean Construction Institute Chicago CoP, Professional Women in Construction, and The Society for College and University Planning.
Ezgi is a graduate of Northeastern University, where she earned a Bachelor of Science in Civil Engineering and Master of Business Administration and sits on the executive board of the Northeastern University Civil Engineering Alumni Organization (NUCEAO).
About Gilbane Building Company

Gilbane Building Company provides a full slate of construction and facilities-related services – from pre-construction planning and integrated consulting capabilities to comprehensive construction management, close-out, and facility management services – for clients across various markets. A family business founded in 1870, Gilbane has active participation from the 4th, 5th and 6th generations of the Gilbane family. Since 1978, Gilbane has delivered innovative construction solutions in Chicago for clients across multiple market sectors including healthcare, higher education, K-12, and public sector, corporate and interiors, developer, residential, life sciences, and industrial.
Share article on social media or email:


Read More: Gilbane Building Company Announces Ezgi Kosereisoglu Talarico's Transition to Business