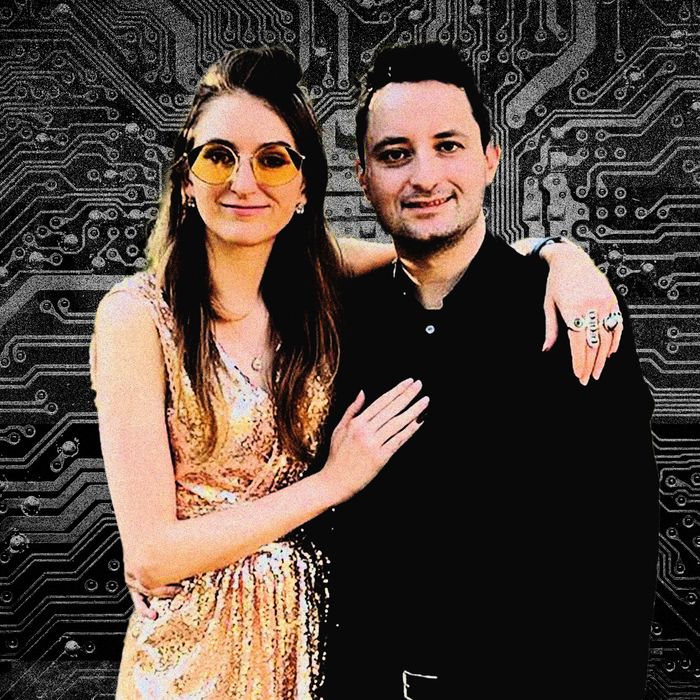 Alleged crypto launderers Heather R. Morgan and Ilya Lichtenstein.
Photo-Illustration: Intelligencer; Photo: Facebook
"Who is Heather R Morgan?" read the PowerPoint slide above Heather Rhiannon Morgan as she began what was supposed be a TED-style talk in the library room of the Williamsburg Hotel by rapping along with her own song, "Versace Bedouin," making it about 25 seconds before someone cut the music.
Morgan was one of those many mid-career millennials living a multi-hyphenate life as an entrepreneur, CEO, investor, marketing guru, and "persuasion expert." In July 2019, the under-30 founder of a marketing start-up stood before a small crowd at the NYC Salon talk series after meeting one of its founders on a first-class international flight. She was there to pitch her version of "social engineering," the cybersecurity world's term for manipulating users to get them to hand over sensitive information that can be used to steal identities or break into accounts. The way Morgan described it, she had something more personal in mind: the art of getting people in real life to give you what you want.
That's what she had been doing since 2018, when she moved to New York with another tech founder named Ilya Lichtenstein, a.k.a. "Dutch." Upon her arrival, she joined the ranks of influencers and so-called creatives, producing non-stop for social media and blogging about cybersecurity and how to navigate career burnout for Forbes. In the city, she added a few more titles to her profile — writer, rapper, streetwear designer — using her Forbes gig to hang out with artists like Cavier Coleman. "We really just had fun and she got to be herself around us," he says, recalling how she would show up to events in the same elaborate, self-modified costumes she'd wear in her music videos. "We would make faces, like 'Oh my God she's off the chain.'"
Morgan's tech background didn't come up much at pop-up shows, nor was she "so passionate about crypto" that she spoke often about the buzzy new thing consuming the art world. Instead, she preferred breaking into freestyle raps without being prompted. So on Tuesday, when Coleman read the news about his friend, he thought, "This is a joke, maybe we're being punked right now, I don't know."
That's when he learned that Morgan and Lichtenstein were implicated in one of the largest crypto heists in history.
On Tuesday, federal agents arrested Morgan and Lichtenstein after law enforcement said they discovered the two squatting on $3.6 billion in stolen bitcoin. They were also allegedly preparing to flee the United States for Ukraine or Russia, where Lichtenstein also has citizenship. When the feds raided the couple's rented Wall Street apartment, they reported finding tens of thousands in cash, a hollowed-out book for transporting bills, and a bag labeled "burner phone."
Lichtenstein was born in Russia in 1987, and he moved with his parents to the U.S. as a child, according to his lawyer's comments in court. The son of a mortgage broker, he grew up in a wealthy Chicago suburb where he showed the kind of academic prowess — Mathlete, captain of the Academic Bowl — befitting a future tech entrepreneur. "Nice kid. Smart. Would be like if McLovin from Superbad ended up pulling off the heist," says Steven Galanis, a former high-school classmate and the founder of Cameo. He didn't travel far for college, studying psychology at the University of Wisconsin-Madison, according to his LinkedIn profile, before moving to San Francisco in 2011 where he co-founded the sales company MixRank, which secured a $1.5 million investment from Mark Cuban and other investors the same year. (Cuban has told BuzzFeed News he doesn't remember him.)
Morgan was born on the Oregon-Idaho border and grew up in Tehama, a town of about 400 people in northern California, where "my dad literally trained me on how to hunt with a spear 'in case a wild bore [sic] charged me' as a kid," she later wrote on Instagram. She graduated with an economics degree from the University of California, Davis, and then went off to the American University in Cairo for graduate work in economics. Later she would claim that's when she gained expertise in "penetrating black markets and shadow economies but some of it just also around corruption or other things like that." In 2014, she parlayed her experience into founding SalesFolk, a marketing firm dedicated to making cold-pitches, while living in San Francisco, according to business records.
Around the same time, according to a former colleague, she met Lichtenstein, who listed himself as an adviser to her company in 2014 on LinkedIn. It's not clear when the two got serious though, with a former friend describing them as "on-again, off again." Part of the reason may have been Lichtenstein's apparent discomfort with Morgan's social-media forward lifestyle. "If you're interested in what I have to say, record it the first time, OK? I'm not a little wind-up, dancing monkey that's going to repeat the exact same thing a second time," he said in one TikTok she posted late last year. Either way the two married this November after Lichtenstein proposed through a "weird, creative multi-channel marketing campaign" that involved posters of his fiancé pasted throughout Manhattan. (It was also the same time they found out about the federal investigation, their lawyer told the court this week, according to the Wall Street Journal.) At their wedding in Culver City, her friends carried her down the aisle in a Moroccan palanquin as "The Final Countdown" played. At the reception, she performed her song "Turkish Martha Stewart."
In May 2016, for reasons unknown, Lichtenstein quietly dropped out of the company he co-founded and his LinkedIn profile from that point forward tapers off into vague titles as an adviser, mentor, or investor. By early 2018, Morgan effectively quit her own job. While citing burnout to friends, in a later Forbes article she blamed legal threats against SalesFolk and dishonest employees "fudging numbers." As she would recall later, "It's really strange to suddenly have free time after beasting nonstop for years. It was about this time that I discovered rapping."
In the middle of their career changes, in early 2017, the couple came to possess most of the bitcoin stolen in an August 2016 hack of the Hong Kong crypto exchange BitFinex, according to the Justice Department. No one has been publicly blamed for that hack, but the couple are accused of holding nearly 95,000 of 120,000 of the coins that were taken, valued well into the billions. They allegedly stored the coins in digital wallets, using accounts registered under their real names and home address to launder the stolen assets. Authorities say the pair successfully washed $2.9 million worth of bitcoin, converting the illicit crypto into gold, NFTs, Walmart gift cards, and other goods that wouldn't give away the alleged source of their mysterious livelihood.
Thanks, perhaps, to the illicit crypto fortune, they moved to New York and eventually settled into a $1 million apartment on Wall Street with their Bengal cat, decking the place out in animal pelts and a taxidermied alligator head. There Morgan carved out a side hustle as a rapper known as Razzlekhan, or sometimes the "Crocodile of Wall Street."