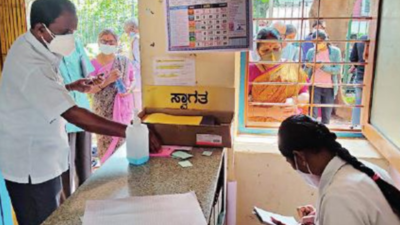 People register to take the Covid-19 test and a shot of the vaccine a t a PHC In Bengaluru on Friday, a day when nearly 2.5 lakh tests were conducted
BENGALURU: Representatives of hospitality and entertainment expressed happiness over the government's move to lift weekend curfew, although a bit disappointed about the continuation of night curfew.
Hoteliers said it's a relief to a great extent as weekend business accounts for a major chunk of their revenue and they were missing out on it. "We're happy the government responded positively to our request. We promise that all hotels and restaurants will strictly comply with Covid norms during business hours," said PC Rao, president, Bruhat Bengaluru Hotels Association.
The norm restricting entry to hotels and restaurants to 50% of seating capacity is a deterrent, but hoteliers hope it'll be relaxed soon with the pandemic third wave expected to recede quickly after reaching its peak in a week or two. Also, they are worried about the continuation of night curfew as restaurants are forced to close at least an hour before curfew kicks in at 10pm.
Owners of pubs and bars are disappointed as relaxation of weekend curfew doesn't really help since they are deprived of peak-hour business because of the night curfew. "We had requested the government to allow pubs and bars to open till 11. 30pm as permitted in the licence. However, we're happy the weekend curfew has been lifted," said B Govindaraj Hegde, general secretary, Karnataka Wine Merchants Associations, Karnataka.
He said about 95% of 3,971 wine shops, 3,622 bars & restaurants, and 400 pubs are open and owners are keenly waiting for the government to lift the night curfew.
The owners of theatres also relieved that shows are allowed during weekends. "We're not thinking much about the 50% norm at present since the overall audience in theatres is thin because of the pandemic. Also, several theatres are missing night shows because of the curfew, " said KV Chandrashekhar, president, Karnataka Films Exhibitors Association.
He said producers are enthused and are now getting ready to release their films. To start with, the Kannada film 'Ombaththane Maili' will be released next week, while the releases of big budget films like 'RRR', Sudeep-starrer 'Vikrant Rona', Upendra's 'Kabja' and Yashstarrer 'KGF-2' are in the pipeline.
Only about 200 of 630 singlescreen theatres in Karnataka are open, and Chandrashekar said more will open next week.
FacebookTwitterLinkedinEMail




Read More: Hospitality, entertainment sectors relieved after weekend curbs lifted in Karnataka |