Good morning, and welcome to our rolling coverage of the world economy, the financial markets, the eurozone and business.
The UK's unemployment rate has dropped again, as employers continue to add workers to their payroll… but wages are now lagging inflation again.
The jobless rate dropped to 4.1% in the September-November quarter, the Office for National Statistics reports. That's down from 4.2% a month ago.
Payrolls continue to swell too — the ONS estimates that employers added 184,000 more staff in December, lifting payrolls to 409,000, or 1.4%, above their pre-pandemic levels.
All regions are now above pre-coronavirus levels, with Scotland having the largest percentage increase on the month.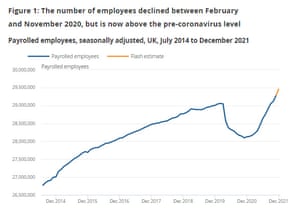 Vacancies hit a record high, again – with 1,247,000 vacancies in October-December, as employers continue to struggle to fill positions.
That's 462,000 more than before the pandemic, with most industries displaying record numbers of vacancies, and the ratio of vacancies to every 100 employee jobs at a record high 4.1. However, the rate of growth in vacancies did slow, the ONS warns.
The redundancy rate has decreased to a record low following the end of the Coronavirus Job Retention Scheme, suggesting that the end of the furlough scheme has not had a significant impact on the jobs market.
But, the economic inactivity rate has increased by 0.2 percentage points to 21.3%, showing that more people have dropped out of the labour market – either because they are studying, retiring early, or ill.
And on pay, real average weekly earnings fell in November 2021 for the first time since July 2020 (more on that in a moment).
Also coming up today
The Bank of Japan has upgraded its growth and inflation forecasts overnight, and flagged heightening chances the recent commodity-driven price hikes will broaden.
Japan's prime minister Kishida Fumio, addresses the World Economic Forum's virtual Davos Agenda today, as does Israel's PM, Naftali Bennett.
On the economic front, we get the lates German economic morale data, and a healthcheck on factories in the New York state area.
European stock markets could open lower, with bond yields rising as investors anticipate several US interest rate rises this year.
The agenda
8am GMT: EU finance ministers hold EcoFin meeting
10am GMT: ZEW survey of German economic sentiment
10am GMT: Special Address by Naftali Bennett, Prime Minister of Israel, at Davos Agenda
11am GMT: Special Address by Kishida Fumio, Prime Minister of Japan, at Davos Agenda
1.30pm GMT: Empire State Manufacturing index for New York




Read More: UK cost of living crunch 'just begun' as real wages fall; oil hits seven-year high –