The new year ushered in a new day in Montana, with the prohibition on recreational cannabis sales left behind in 2021. 
Seventeen years after medical marijuana providers and patients started blazing the path, recreational cannabis sales opened to the general public Saturday. Some dispensaries in Helena had lines of people packed inside to avoid cold temperatures, while others saw a small but steady stream of foot traffic through noon.
Heidi Morris, a budtender at The Higher Standard, said about two-thirds of Saturday's customers at her location in Helena weren't familiar with the finer points of cannabis yet. But at the Cannabis Corner, J.D. "Pepper" Petersen, the owner and one of the front men for the legalization campaign in 2020, said the large majority of customers had "done their research."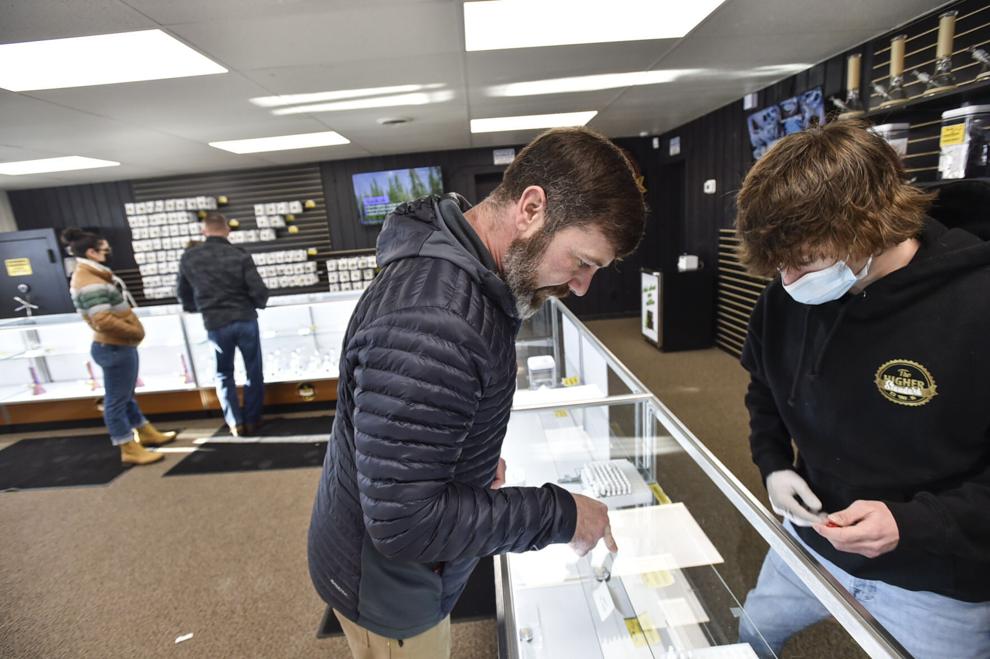 "It's about time," said Frank Harris, 57, after leaving the Treasure Tree dispensary on one of Helena's busier thoroughfares. 
Possession and consumption of recreational cannabis has been legal statewide for a year now, following the passage of Initiative 190 in 2020. The Governor's Office of Budget and Program Planning projected $130 million in recreational sales in 2022, climbing to $195.5 million in 2023 once the moratorium on new businesses ends.
About 58% of voters approved recreational cannabis use in Montana, but a few customers Saturday said the stigma against cannabis is still prevalent. 
A Helena man named Mark didn't want to give his name because of some family members who are "not too cool with it," although he hopes that fades in the coming years. He, like others who braved the frigid day, said they feel cannabis is less destructive than alcohol but remains taboo, despite a majority of Montanans voting for it. Mark was never a medical marijuana cardholder, but said he's been "toking" marijuana since the 1970s when he and his friends would get high by the Beaverhead River.
"It never should have been criminalized," he said. "If they give it to cancer patients, that tells you all you need to know."
Another customer, Jeff Radke, 39, said the stigma against weed may last a few more decades, but he's glad to see low-level marijuana crimes taken off the books. As for how Radke thinks about the next generation, he's been talking with his teenagers about cannabis the entire year leading up to recreational sales. 
"Nothing makes it less attractive to your kids than you being involved," Radke said.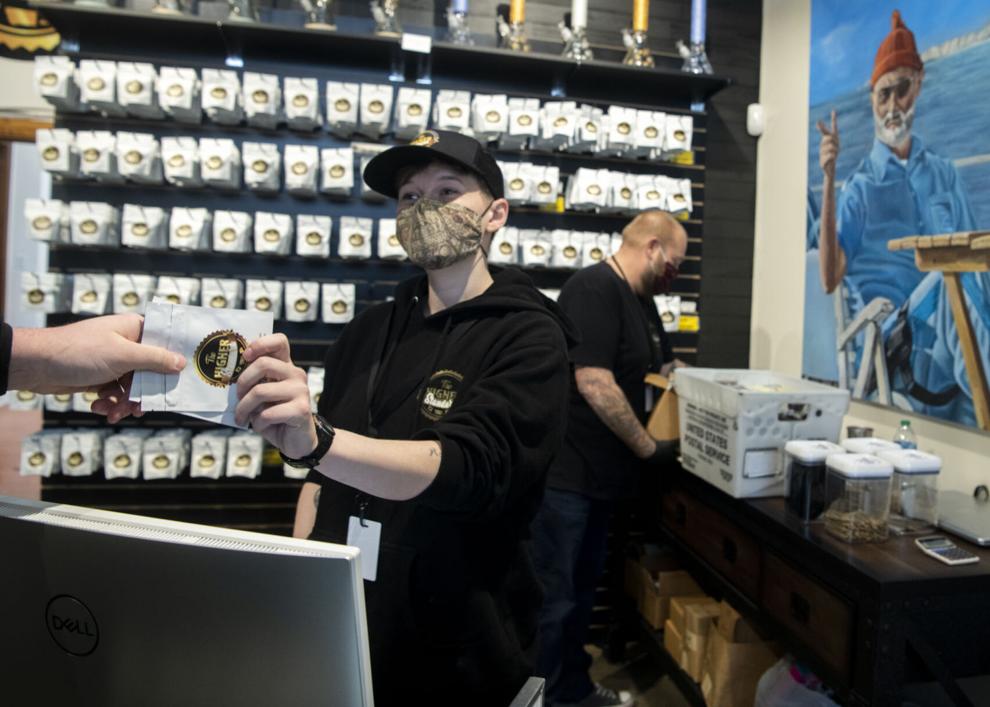 Brisk business
Saturday was the moment of truth for many who have made marijuana their livelihood. In Missoula, JJ Thomas, owner of The Higher Standard, said it's not been an easy venture. 
"I'm thankful for everything, thankful for my health, (to) be able to do this because it's taken a toll on me and my family to build all these stores and get here, but it was a dream I had," he said. "I'm hoping to create a legacy for my family."
Petersen estimated 99% of customers through the Cannabis Corner by noon were buying recreational, as opposed to medical, product. Petersen headed up New Approach Montana, the 2020 campaign to legalize recreational cannabis in the state. He said he's excited for Montanans who have held out on registering as a medical marijuana patient because they refused to be listed in a database.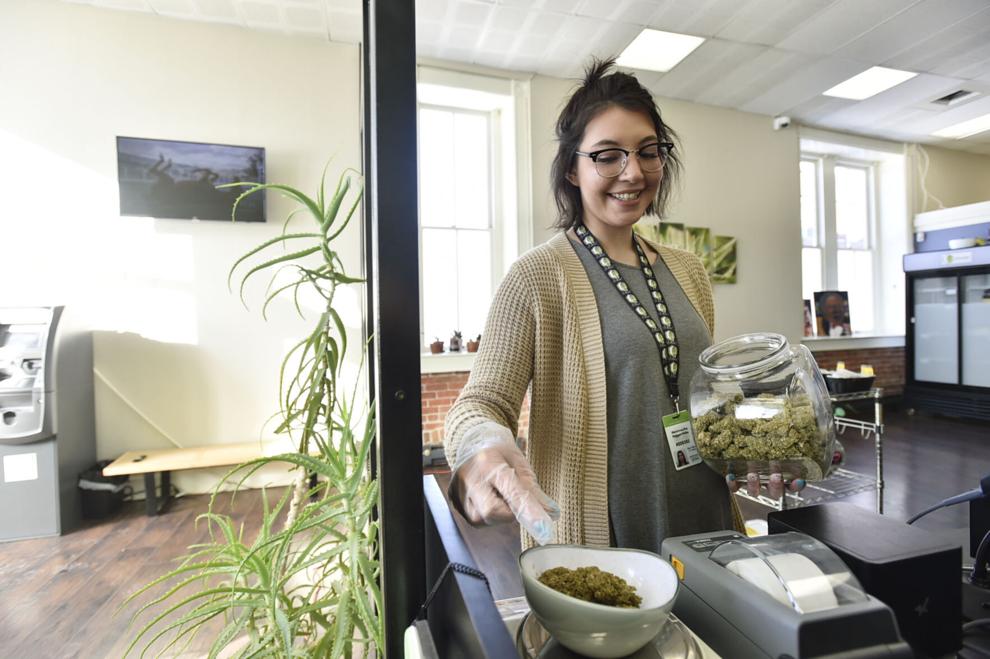 "We've all been counting down" to this, he said. 
An hour after opening its doors, the parking lot at Lionheart Caregiving in Yellowstone County still overflowed with vehicles. Customers sat in their cars, bracing against temperatures that hovered just a few degrees above zero, until stepping inside the dispensary to join the line. Because most of the medical marijuana cardholders had stocked up on their monthly allotment allowed by the state in preparation for a surge Saturday, many of those in line were stepping into Lionheart for the first time.
Among those waiting to show an employee his ID was Chris Powell. Until Saturday, he'd made monthly trips to Colorado, where recreational marijuana has been legal since 2012. For years, the Wyoming man has used cannabis to supplement the medications prescribed for his back. After two surgeries, he still suffers from pain and muscle cramps. Between pills or pot, he said, he absolutely prefers marijuana.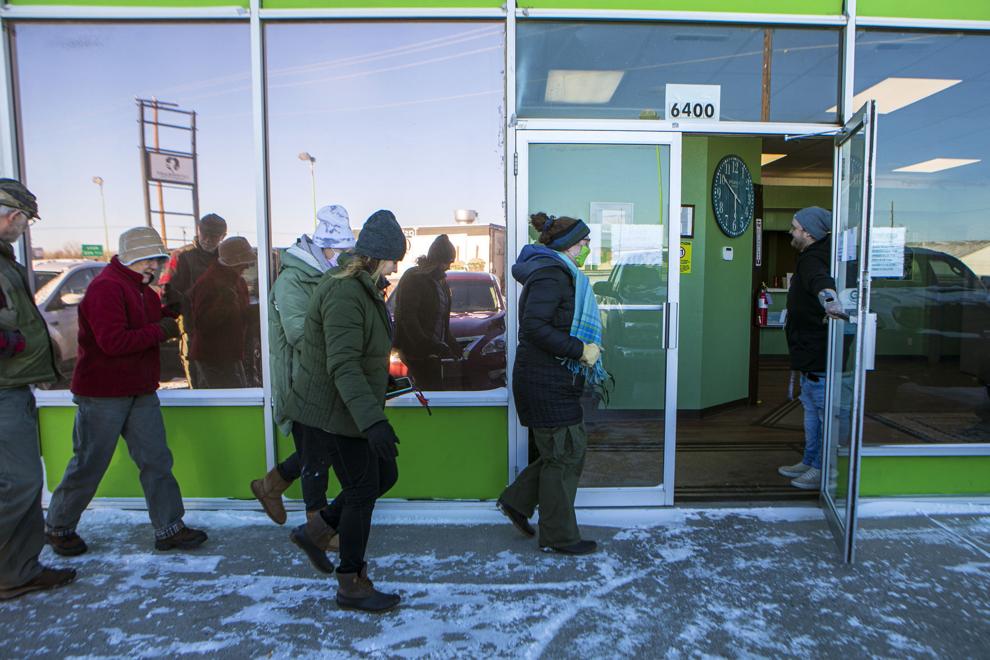 "I'm definitely happy it's finally available here in Montana. I feel like it's just like booze in that people should be able to enjoy it, so long as it's in a safe and controlled way. … I'm grateful for it, and it's about time," he said.
Powell said the 1 ounce legally available to him will last him about a month, and he'll be able to save time and money driving to Montana rather than Colorado.
Litigation lingers
Several areas of the state have seen providers take to the courts in response to local ordinances officials put in place ahead of recreational sales, rules meant to either foster new business or push it further out of view.
About half of the providers in Bozeman sued the city in late November to reinstate a 20-storefront cap that the city commission voted to lift within city limits. Yellowstone Public Radio reported on Thursday a district court judge sided with the city, which can begin accepting new license applications in one of fastest-growing places in the state. 
In October, Yellowstone County began developing restrictions on marijuana sales and production in certain areas in the county, effectively barring nearly a dozen providers from selling recreational cannabis Saturday….


Read More: 'A long time coming': Recreational cannabis sales go live in Montana